Convenient and Affordable Storage Units
Serving thousands of residents and businesses with their Self-Storage needs in Draper, Sandy, Bluffdale, Riverton, and Herriman since 1996.
Clean, Safe & Secure
Security access gate, State of the art lock system, 32 security cameras, Fortress style Facility, and well lit at night for your peace of mind.
Professional & Friendly Management
Draper Self-Storage has the solution to your residential or commercial self-storage needs. Our friendly and expert staff is just a phone call away to help you find the best storage unit.
Heated & Cooled Units with easy access
Why are climate control storage units important? Just like in your home, many items do better when not exposed to extreme temperatures. Climate controlled units also provide added protection from dust, keeping your items cleaner.
Convenient Access
Located only 3 minutes from I-15/12300 exit and I-15/Bangerter exit in Draper. Our facility has gate-controlled access 365 days of the year.
On-site Management
Our onsite management team is ready to assist you with all your storage needs. We offer over 15 different sizes and types to choose from.
Heated & Cooled Units
Climate controlled storage prevents damage due to prolonged exposure to changes in temperature and provides added protection from dust, keeping your items cleaner.
State-of-the-Art Security
32 digital security cameras, individual gate access codes, fortress style construction and tamper proof door locks are part of the peace of mind that comes from storing with us.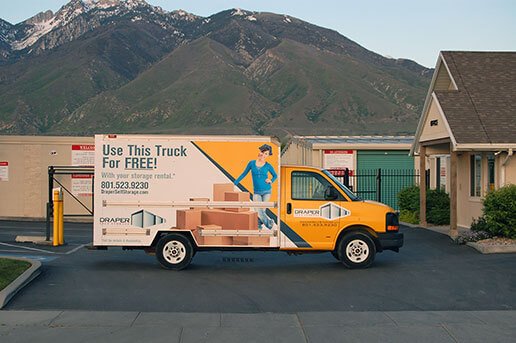 Use Our Truck for Free!
Eliminate the hassle and cost of renting a moving truck! Rent any size storage unit and you'll get free use of our easy to drive 12-foot truck. Most unit sizes require just one trip, but you can use it all day for your larger loads. Our truck is equipped with AC and is automatic.
Make your reservation today because it is booked on a first come basis. We just need your driver's license, proof of auto insurance and a credit card on file to get your move started right.
Make a Reservation
Draper Self Storage is by far the best, most efficient, customer friendly group I have ever worked with. I have used a number of storage facilities through the years and this by far the best. Highly recommend to anyone and everyone. Definitely 5 STARS!!!

Larry
I have used these guys twice now, and they are excellent. Their little truck was so helpful for moving day, too. Very friendly folks, I highly recommend them.

Terra
We needed a large storage unit to store things for our cabin which is under construction. Jeff got us set up with the right unit. It was clean and we moved our stuff in the same. Thanks to both Jeff and Jordan for making this almost effortless.

Larry
Great storage and the free truck to use is very helpful.

Michael
We had an unexpected immediate need for storage space. We simply showed up and asked if they had some space. They showed us a couple of options and found a unit that would fit our needs. Took us about 10 minutes to complete the paperwork and then we "moved in". Very professional and friendly staff. Would highly recommend.

Troy
We used Draper Self Storage for the last year to store our furniture etc while we went away for a 1 year MBA. We couldn't have been happier with our experience. The facility and units are well cared for, clean and have no bugs. We felt very comfortable with the level of security- lots of cameras, and new high end locks on each unit. They have a great system of Autopay and Emailed receipts. I was also pleasantly surprised at how attentive, friendly and professional the staff is. When we needed an extra unit for a one week period they worked with us and were very accommodating. I would totally recommend this storage facility!

Amy
Bailey at the front desk was incredibly helpful and had a great attitude! It was a smooth and solid process and I couldn't have asked for a better experience!

Patrick
We use our storage several times per day. Draper Self Storage has awesome security. It's always clean and there have never been any problems.

Sam